Next >
< Previous
« Back to All
Executive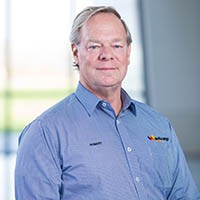 Robert Kasch
General Manager, Toowoomba Wellcamp Airport
Robert has close to 40 years' experience in the International Aviation Industry and stepped into the role of General Manager at Toowoomba Wellcamp Airport in June 2019.
As Business Development Manager - Cargo from 2017 - 2019, Robert was instrumental in compiling the Airport's business case for the Queensland Government's Regional Export Distribution Centre to be based at Wellcamp Business Park.  
Having spent many years working in the USA, Robert observed that sometimes there can be vastly different approaches to solve similar challenges. He has worked for both large multinational organisations and small niche players in various roles and is a firm believer that behind any good Logistics plan there has to be a good infrastructure network and the ability to use varied approaches.
Robert spent 10 years on the board of the Australian Federation of International Forwarders (AFIF).