Next >
« Back to All
Executive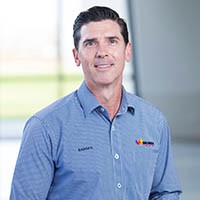 Damian Bell
Executive General Manager
Damian joined Wagner Corporation in April 2019 and is an experienced management professional with a background ranging from financial and legal advisory to whole-of-business management and accountability.
He began working on major projects, infrastructure and their associated financing in Australia and the UK with leading international law firms. Damian has worked on projects ranging from on and off-shore oil and gas, power plants and transmission, technology, weaponry, and transport infrastructure as well as general corporate and commercial projects.
Damian branched out into commercial roles in banking and finance, initially working with the Utilities & Infrastructure and Natural Resources teams within the Corporate Finance division of a major international bank. In his role at the bank he lead cross-border structured transactions, transformation /optimisation programs and established the Business Execution function within the bank. He further fulfilled offshore leadership roles in Asia as Country Head / CEO.
Damian grew up in Toowoomba and moved back home to the Garden City where he currently resides with his wife and three children.