Next >
< Previous
« Back to All
Board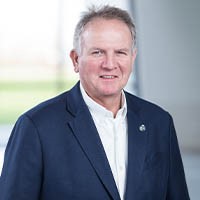 Joe Wagner
Director
A boiler maker by trade, Joe's 30 years' experience in the construction materials industry has seen him successfully lead the establishment of new concrete, quarry precast and transport businesses across infrastructure projects in Queensland, Western Australia and the Northern Territory. 
Joe led the development and commercialisation of Wagners geopolymer concrete "earth Friendly Concrete" which achieved many international awards and has recently achieved the European DIBT accreditation status.
Portfolio – Wagner Pinkenba Wharf, Wellcamp Business Park Workshop
Joe has lead the family's overall project business across Australia which consisted of concrete, contract crushing, transport and precast. This experience gave him expert insight into the supply chain for materials from sea to rail to road. Joe appreciates the role that Pinkenba Wharf plays as a key logistics partner for South East Queensland. 
Community
Born and raised in the region Joe remains committed to create sustainable opportunities for young people of all abilities through his involvement with various local charities.
In his spare time he enjoys his pastoral passion on a small rural enterprise in beef cattle production.
Joe is a past Board Member of Toowoomba and Surat Basin Enterprises.